*Hi everyone! Just to warn you that these days there may be a flood of written in hurry reviews and check in posts. I failed miserably in the cross stitch challenges this year, so I will be trying NOT to fail THAT miserably with the reading ones. So I'm starting to clean up the ones I finished :D*
So back in March I signed up for the Wodehouse challenge: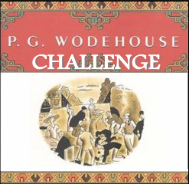 and claimed : " I don't have a plan for this challenge set in stone, but I hope to read at least 5 of his works"
And this is what I read:
1.Jeeves and the feudal spirit - P.G. Wodehouse (29.01.2012) / Джийвс и феодалният дух - П.Г. Удхаус
2.Jeeves in the Offing - P.G. Wodehouse (30.01.2012)/ Джийвс се намесва - П.Г. Удхаус
3.Much obliged, Jeeves - P.G. Wodehouse (31.01.2012)/ Много съм ти задължен, Джийвс - П.Г. Удхаус
4.Ukridge (10.05.2012)/ Ъкридж
5, The small bachelor - P.G. Wodehouse/ Нюйоркси гении - П.Г. Удхаус
6, Dr Sally - P.G. Wodehouse/ Доктор Сали казва "Добро утро" - П.Г. Удхаус
7, The man upstairs and other stories - P.G.Wodehouse/ Цяр за всичко - П.Г. Удхаус
Book reviews weren't pointed as a must, but if I suddenly decide to write some, I will add them. It seems to me like the blogger who started this challenge isn't hosting it actively anymore, so I'm not sure if I should check this in somewhere. But still, it's a finish, so YAY!
*Предупреждение:D В следващите няколко дни могат да ви засипят набързо написани ревюта и постове за читателски предизвикателства. След като като се провалих напълно с крафтърските предизвикателства, смятам да се постарая да не се проваля чак толкова с читателските, затов започва голямото отчитане XD*
Започвам с предизвикателството Удхаус
Записах се за него през март на нивото, в което сам определящ с колко на брой книги да се предизвикаш. Аз се зарекох да са поне пет. Прочетох следното:
1. Джийвс и феодалният дух - П.Г. Удхаус
2. Джийвс се намесва - П.Г. Удхаус
3.Много съм ти задължен, Джийвс - П.Г. Удхаус
4.Ъкридж
5, Нюйоркси гении - П.Г. Удхаус
6, Доктор Сали казва "Добро утро" - П.Г. Удхаус
7, Цяр за всичко - П.Г. Удхаус
Ревюта не бяха посочени като задължителни за успешното завършване на това предизвикателство, но ако случайно ми дойде музата - ще напиша и ще добавя тук и линкове. Блогърката, която започна това предизвикателство, изглежда вече не го поддържа активно, така че не знам дали трябва да се отчета някъде другаде. Но все пак си е едно завършено - така че Йей!