Title: The haunting of Hill House
Author: Shirley Jackson
genre:horror, mystery, supernatural
read in bulgarian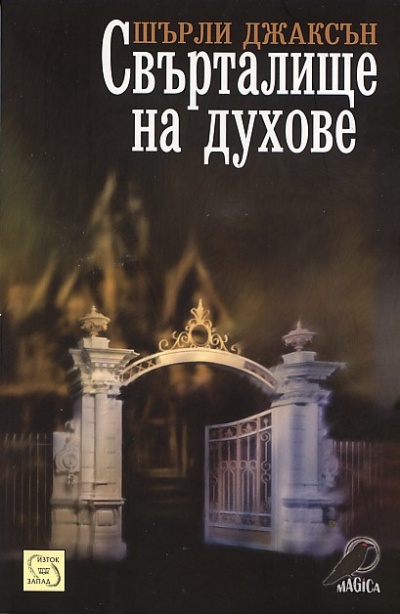 Pre thoughts:
I played and won this book sometime in the summer. I was quite happy about it and eager to start it, but was able to read it only after the start of the school year. I've never seen the movie, but I liked the review on the back cover
Story:
Hill House is famous - but not in a good way. It's ill name however brings the scientist Dr Montague who hopes to find proof of supernatural powers in this world. To aid him, he invites several people, known to have a paranormal event in their lives
It's hard to say wether I liked this book or not. In any case, it was not what I expected. I expected ghosts - you know, transparant stuff, poor souls after dark events that can't go on. But here, it's not the lives of the people that left an impression on the house and made it haunted. It's rather the opposite.
The house was wrong from the very beginning, from the very moment it was built and this is what I found most fascinating in this story. What was the reason for this - the owner, the place, the architecture - but it finds its way to the minds of everyone who goes through its doors and slowly maddens him. At least this is how I understand and felt from this book - there is no actual entity that haunts Hill House. It is the house.
The main story told was... weird. It doesn't scare, it slightky bores and leaves a certain feeling of uneasiness. I also coudn't pick a fav character - and it is rare for me, as I alwasy do when I read or watch something. Or, if not a "favourite", then at least someone that I find interesting and fascinating.But here I disliked more or less all of them. The house was the more intrigung character here.
The language of the book was beautiful. I think this was the biggest "plus" . There were some phrases I just wanted to reread again, or to repeat them out loud, simply because of the words chosen.
I give The haunting of Hill House 3 stars. In my Shelfari this means "I like it (but not so much)
~~~~
Заглавие:Свърталище на духове
Автор: Шърли Джаксън
жанр: ужаси, свръхестествено, мистерия
прочетена на български
Не съм гледала филма, но когато прочетох резюмето на гърба на книгата, то веднага ме привлече. Затова и се зарадвах много, когато я спечелих от един конкурс.Освен всичко друго, пасваше и за няколко предизвикателства :)
Историята се върти около къщата Хил Хаус, която се ползва с лоша слава. Точно тя обаче довежда д-р Монтагю, който се надява чрез изследвания да докаже съществуването на паранормални сили. Със себе си той кани и неколцина души, които са преживели някакъв вид свръхестествено събитие в живота си.
Трудно ми е да кажа дали тази книга ми хареса, или не. Във всеки случай, не беше това, което очаквах. Когато подхващам призрачна историйка, очаквам да се срещна с разни прозрачни неща, нещастни души, които не могат да преминат отвъд поради недовършени дела или страховити събития, белязали ги докато са били живи. Тук обаче, не делата на живите бяха белязали Хил Хаус и направили я обитаема. А по-скоро обратното, или поне аз с такова впечатление от книгата останах, и намирам това за едно от най-любопитните неща в книгата.
Къщата не е била наред още от самото начало. Коя е причината за това - кой знае - собственикът, мястото, където е построена, архитектурния план? Но във всеки случай тя намира начин да се прокрадне до съзнанието на всеки, който прекрачи прага и. А в Хил Хаус вратите никога не остават отворени. Не нещо, някое същество или дух обитава Хил Хаус, Хил Хаус се вмъква и обитава обитателите си (като това май е най-смотаното изречение, което съм писала тези дни)
Самата история не успя наистина да ме впечатли. Не ме ужаси или уплаши, на някои места ми беше почти интересна, на повечето - предимно скучна, но оставяща някакво... неудобно усещане. Не можах за си харесам и никой от героите. ОБикновено винаги, когато чета или гледам нещо, някой от героите успява да ме привлече, може би не да ми стане любим, но да го намеря интересен и интригуващ. Тук никой не успя да ме спечели.
Езикът на книгата е красив. Това, мисля, е един от големите и плюсове. Имаше изречение и фрази, които ме караха да се върна и да прочета пак, или дори да ги кажа на глас, просто защото ми харесваха как звучат.
В крайна сметка давам на "Свърталището" 3 звездички. По Шелфарската схема, това е "хареса ми (ама за маааалко)"