Hi there everyone! This is going to be kind of a short one. As you may have noticed, I ran out of pre written book reviews. That's what we call bad time management. I'm so good at bad time management.
Anyway, as two of my packages have been received, I showed you the cross stitched pieces, but forgot to do so for the cards. Good thing, now I have something to post. I had some quality fun time making decoupaged cards to go along, something I'm not very good at. But again, they were fun. They are very very really simple tho. I've been trying new stuff with every card and i hope to do some more the summer.
Here we go:
and
Actually the ribbon here just holds the card closed with the letter inside. The first card went to Anne and the second, that was first made actually to Tiki. I hope my last package arrives soon, and there will be one more card to show (hint - it has a teddy)
And just when I went posting this I saw on one of the book blogs I follow a meme with a question I had to answer: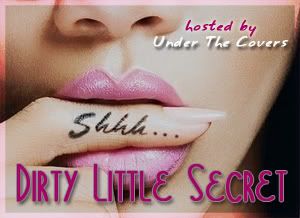 s
Dirty Little Secret
is a weekly meme hosted by us at Under the Covers. Every Thursday we get to know other bloggers and our readers more intimately by asking them a question hoping to reveal their dirty little secrets. We hope that you will all join us!
To participate in the meme all you need to do is:
1. Be a follower of Under the Covers.
2. Create a post in your blog taking the meme image (code above) and copy instructions.
3. Answer the question we propose! This can be done in any way you like, post a video, write a post etc.
4. Then add your link below.
Non-bloggers: We want to hear from you as well!!! Let us know your answer in the comments!
We hope you join us and let us know your
Dirty Little Secrets!
This week's question:
If your blog crew (or if it's just you, then you are a pack of one) could make up their own pack, what name would you call yourselves and what animal pack would it be?
As I have terribly wild imagination and also terribly short atterntion span, I knew the answer right away:
Since I blog alone, I will be *dramatic and heavy tension music)
The Lonely Llama (of the Alpacalypse)
I think I've shared my llama love with you before, so I won't start telling you now why they're so awesome. And while my llama love originated before the DA, I would still kill for their llama plushies. And don't you try telling me that "pack" and "llama"don't go together
FEAR US
So what's you animal and pack name? Soo curious to know! From the meme answers I read so far, I saw many felines and a couple of wolfs.
And if you don't have something in your mind, you're more than welcope to join the llama pack! Then instead if a lonely llama, I sugest we go under The Lovely llamas. We'll fight and the exesses of drama out there, and we'll save the world. Maybe from evil unicorns spitting rainbows, maybe from dalecs. who knows, but we'll win. That's granted, because we have the Doctor on our side
And I guess we have that guy from Twilight too. Watched and read the first parts only, mild Twilight hate, but yes I think he's a cute llama. I think that guy was a werewolf and used to have long hair
Oh, and we'll have a very cool theme song! Something dramatic in the background while llamas are galloping
And how about being armed with knitting needles.
As you see, I have tons of llama scenarios in my head, and so very little anatomy knowledge in it. My poor head.
In any case, you're welcome to share your inner animal nature. Till the next time I find something quite useless, but still worth the excuse to blog and not to read (serious stuff)!
~~~~~~
Здравейте! Това трябваше да е къс пост, но съдейки по количеството текст на английски, който току що изписах, май започнах поста с лъжа. Колко жалко, а и ме мързи да едитна. А смятах само да покажа две картички, които вече пристигнаха при получателите си. И двете са семплички, но са си първите ми опити в онзи другия вид декупаж. И онова със салфетките е декупаж, и това с 3 D ефекта също. Ако се задълбочим в значението на думата като изрязване, това е приемливо, но аз все пак бих предпочела да имаше повече разграничение, за да се избегне объркването.
Надявам се третият и последен пакет да пристигне скоро, в него има още една картичка, която и тогава ще покажа - а засега ще издам, че е с мече.
Внезапното удължаване на поста се дължи на факта, че мернах в един от книжните блогове, които следя - Под кориците - едно меме. То призовава участниците да изададат своите "малки мръсни тайни" и въпросът, който задаваха сега, беше толкова неустоим, че след като така и така поствах, нямаше как да не се включа. а той е следният
"Ако вашият блог екип (или само вие, ако блогвате по отделно) бяхте глутница, какво щеше да е животното и как щеше да се казва глутницата?"
Благодарение на изключително шантавото си въображение, от което не се оплаквам, но ако не водеше за ръчичка със себе си толкова много невнимание, щеше да е по-добре, та отговорът беше налице веднага. Тъй като си блогвам самичка, ще съм (драматична музика)
Самотната лама на АЛПАКОлипсиса
Добре де, на английски звучи по-добре, но и така става.
Няма да почвам да ви обяснявам защо ламите са страхотни, и преди съм споделяла лама любовта си.
Но затова пък ми е много интересно на какво бихте се спрели вие. В меметата, които прочетох досега, имаше много представители на сем. Котки и един два вълка.
Ако пък не ви идва нещо на ум, добре дошли сте в моята глутница лами. Да, ние сме глутница. Бойте се. Респект.
Ама не, ние ще сме добри лами. Ще се борим срещу излишъците от драма и ще спасяваме света. Може срещу зли еднорози, които плюят дъги от напалм, или пък от далеци. но ще побеждаваме във всеки случай. Това е сигурно, защото имаме на наша страна Доктора, а май че и онзи от Здрач. Чела и гледала съм само първата част, въоръжена съм със средна по-сила неприязън към цялото чудо, но не отричам, че от него става чудесна лама. А иначе май беше върколак този младеж. Ако не бъркам. Май че преди имаше дълга коса.
Във всеки случай, идейки от мен, оприличаването на лама може да се смята за висша форма на комплимент.
А, и освен това ще имаме драматична музикална тема, на фона на която може да се галопира. R ie kdпъвам да спрегна хубаво име на български с две Лъ-та. Любвеобилните лами на Алпаколипсиса не звучи особено добре.
Както виждате в главата имам твърде много лами, и твърде малко анатомичен материал. Малко материал под формата на знания, а също така, струва ми се, и малко материал под формата на сиво мозъчво вещество. Горката ми главичка. И така, до следващия път, когато си измисля извинение да пиша, а дотогава сте добре дошли да си признаете какъв е звярът вътре във вас, ако не е той лама.