My bookmarks officially arrived! *happy dance all around* Maybe you've seen them already at
Tiki Stitches
,and if not, you should still head that way, because her photo is way better than mine. The patterns are, one again, from "
the wonderful world of sprites designed by Dork Stitch"

as Tiki says there, I really like the sound of it! So here are my gloomy photos, taken just before the package went at the post at the Uni corridor on my Repetitorium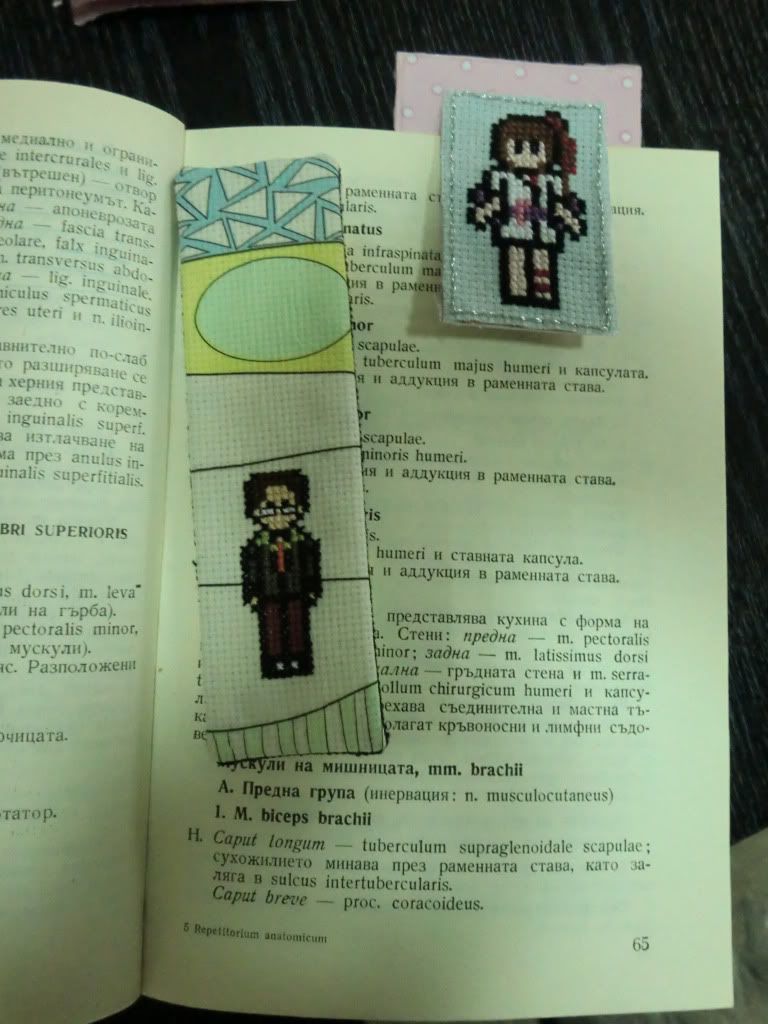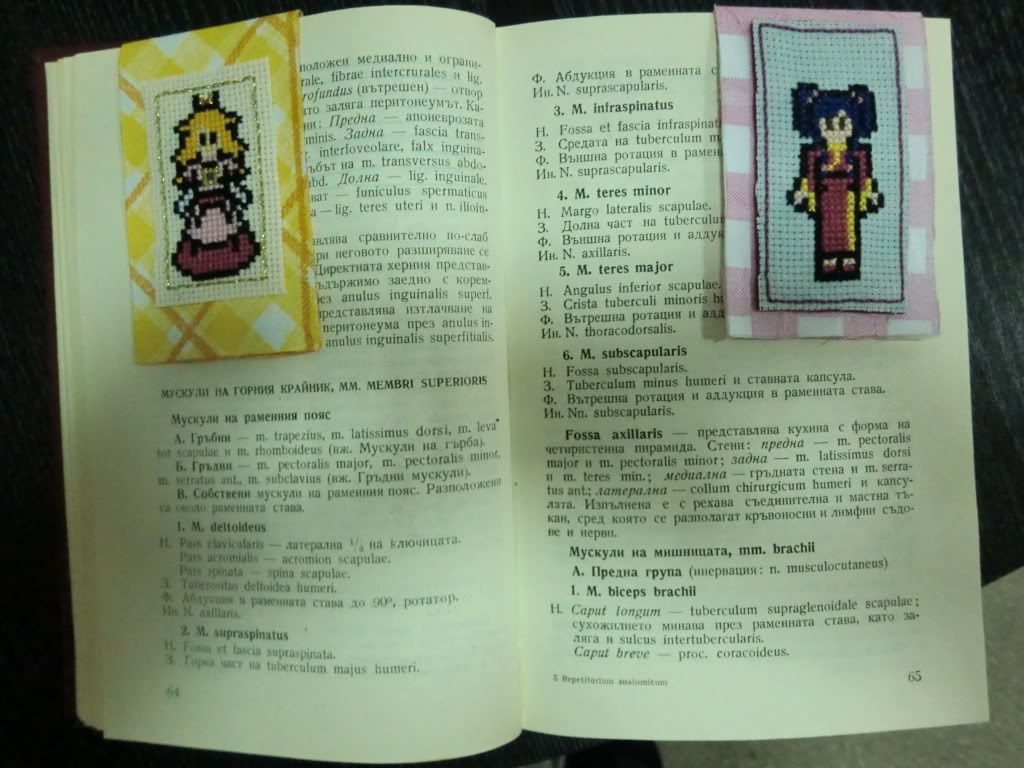 I made some experiments with decoupage doing these, and I think they turned rather good!
~~~~~
Книгоразделителчетата ми най-сетне пристигнаха и вече без всякакви угризения, че ще разваял изненадата, мога да ги покажа. Отне им месец и половина да стигнат (язък за мартеничките. Аз вече мартеници ще пращам с коледната поща) но много много се радвам, че не се бяха загубили.
Тези книгоразделители пристигнаха у Даян от
Tiki Stitches
, и тъй като нейните снимки са по-добри от моите, препоръчвам посещение и там. Моите снимки са правени в коридора на университета, малко преди да отпътуват, поради липса на по-добър фон - върху Репетиториума (= официални записки за тройка по анатомия, ама аз и толкова не мога да си напълня в главата). А схемичките са естествено от
Dork Stitch
:)
С тези книгоразделители на воля си поиграх с декупаж. Всеки е минат с тази техника. Последните два са магнитни, розовият беше планиран като филцов, ама.. не ми хареса как стана и в последния момент го направих и него на магнитче. Тези са малко по усъвършенствани от магнитния със Сиел, защото намалих броя на слоевете.
Благодаря на тези, които се записаха за кендито! Време има още доста, така че ако на някой му се прииска -
тук
ще го чака да се кендито до 30ти. Ако за някого не сработи приставката, а иска да се запише - нека да пусне мейлче или коментар, и аз ще го впиша :) Повечето, които коментираха за това каква наградка да ушия, се спряха на полезния вариант и избраха книжка за игли. Важите желания са винаги закон, а този път ще съм и законопослушна - схемата е избрана и се шие и с малко повече късмет до края на великденската почивка ще е готова.
А такам... някой случайно да е зарибен по Шерлок? А да си мисли, че от Бенедикт Къмбърбач би излязъл стахотен Доктор?
Я поггледнете картинките по-долу :))))
Сега какво ще кажете?
Шерлок е по Фокс Крайм, Доктор Кой май по AXN :D
Thanks for everyone who signed up for the giveaway so far! You have plenty of time still, so anytime you decide to join in, or to add and extra entry, you can do it ->
here
! If you have a problem with the widget, say it in the comment or mail and I'll add you manually from my side. And thank you for all the comments you've left! Lol I didn't mean you had to leave me full dinner report , although it was awesome to read them! Most of you voted for the Useful type, so it's set in stine now - it wll be a needlecase. Pattern picked and stitching, I hope to show it to you after the Easter break, that to say after Monday.
I got home for the Easter yesterday, and it seems I have a mystery package to collect from the post! But with the days out it will have to wait till the end of the holiday.. aww the anticipation! XD I don't know what it is, but the only thing from the international mail that I'm waiting for is a set of stickers from GetGlue. Do you know this site? I found it like a month ago, and I'm getting addicted to it! It something like.. oh well I'd say Twitter for movies and games and books, but I don't like Twitter, so! You can check in everytime you watch/read/do something and you can gather stickers which is pretty fun - and they can mail the real sopies to you!
View Topcho's check-ins on GetGlue
It's kinda scary to gather all the things in one place - when the heck I started watching all of these?!?
View Topcho's stickers on GetGlue
And as you can win stickers by watching trailers too, now I have so many titles in my wanna watch list!
The last thing that got me is Sherlock! I'm loveng this show, but I just can't help expecting to see the Tardis around the corner!
Ok, seriously, I want Benedict Cumberbact as the next Doctor.
Not that I don't like Math Smith, just
just...
And it goes well with the wibbly wobbly timey wimey stuff!
Ok, you see where I'm going, right?
Look, there's a ginger version! The Doctor wanted to be ginger, right, so how about this?
And the 2 show are made by the same people, more or less, os pretty pretty pleeeaase?
Btw someone watched the DW new trailer? All looks cool but no River Song, at least in what I watched!
Ok, let's stop with the fangirlshipping. I hope you have a nice sunny weekend, Easter or not! Tomorrow we'll be painting the eggs, and if they look good I'll snap a photo :D